from everything else out there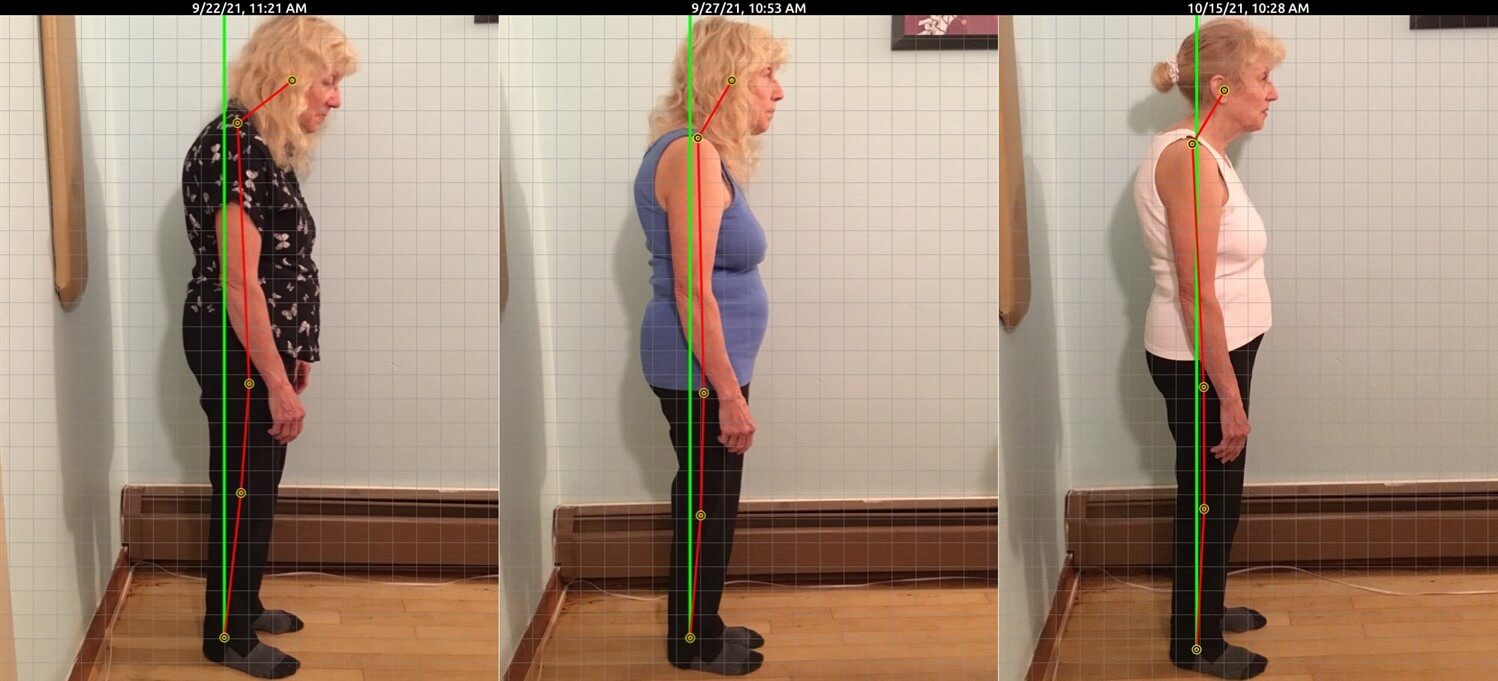 Properly administered pharmaceuticals, herbs, supplements, and homeopathic remedies give this healing environment to the organism at the biochemical level. Advanced BioStructural Correction™ practitioners provide the restorative conditions for the body to correct its structure when they restore bone displacements to their natural positions.
The central understanding in ABC™ is that some bones in the body go out of place in a direction that the body can't self-correct because no muscles are available to pull in the direction needed to correct them.
If you have difficulty grasping this idea, run your fingers down your spine and you'll find that, except for a thin layer of skin, there's nothing behind your vertebrae.
What that means is if a vertebra goes out of place in the forward direction, your body can't pull it back in place – someone else has to do it for you. And when that doesn't happen, the body develops a series of compensation patterns as illustrated below.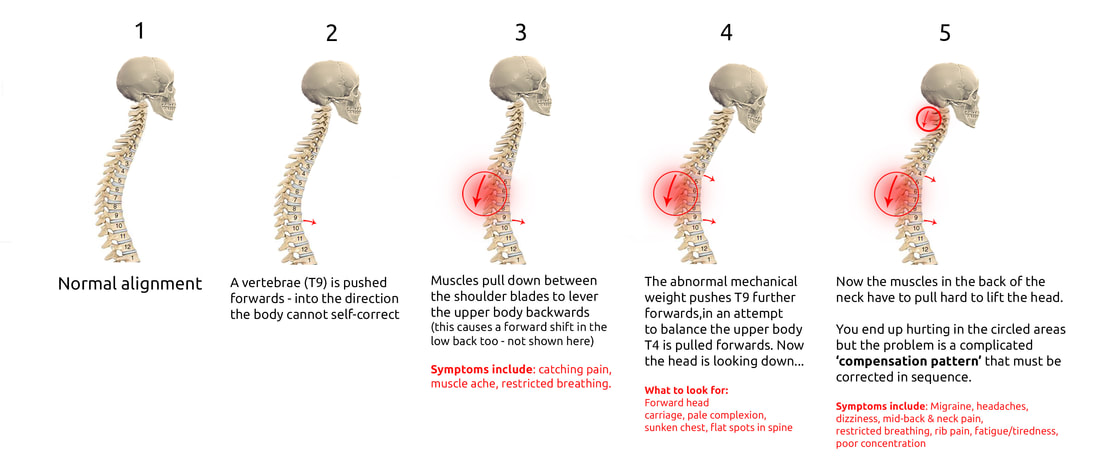 Note that the above image shows the sequence of compensations for just one bone going in a forward direction. In reality, there are many such occurrences throughout a person's lifetime starting as early as prenatally in the womb. These multiple injuries get layered on top of each other separated by compensatory patterns.
This situation ultimately leads to the production and presentation of symptoms in the body, which are, in fact, compensations, whose exact origin is a bone or bones out of place in a direction that the body cannot self-correct.
These compensations are what everyone else in the medical and non-medical profession focuses on in their treatment and not on the actual cause or origin. 2
ABC™ differs from any other manipulative modality out there because of its precise diagnostics and treatment techniques, which deliver consistent and predictable results.
Three significant areas that set ABC™ apart are:
ACCURATE DETERMINATION OF INJURIES VS COMPENSATIONS
ABC™ practitioners are trained to detect the underlying bone displacements that need to be corrected, leaving the compensations alone.
Not understanding the difference leads practitioners of other manipulative disciplines to treat areas of compensations that may offer some relief at the time but almost always prove detrimental to the body in the long run.
FIX ONLY ACTUAL INJURIES THAT THE BODY CAN NOT SELF-CORRECT
An example of a "compensation" is the body engaging muscles to move a bone out of place that it can self-correct but does not since it's needed to support the body until the underlying injury has been fixed.
Once the underlying forward displacement of the bone has been addressed, the body releases the compensation and associated symptoms, such as muscular pain, clear up.
ADDRESS MENINGEAL ADHESIONS
Unique to the ABC™ protocol, practitioners routinely check for and release adhesions that form in the meninges. They use specific maneuvers for this purpose that allow for corrections far surpassing advanced surgical methods devised to remove these meningeal adhesions.
An important part of completely restoring your spine's optimal configuration lies in ensuring there are no patterns keeping vertebrae stuck in a way that prevents an ABC™ practitioner from moving them back to their natural position.
However, because of vertebrae being out of place, the meninges, a rubbery sheath covering the entire central nervous system, develops scar tissue that sticks to the bones, holding them in place. This is part of a compensation and much appreciated by the body as it delays further deterioration to the spinal configuration.
Once an ABC™ practitioner fixes the forward bone displacements, though, the meningeal adhesions are not only unnecessary, they get in the way of treating the vertebrae and must be removed to make any significant progress.
As layers upon layers of injuries and compensations are cleared from the body, all secondary and tertiary forces applying to various muscles, connective tissue, organs, and glands are released.
The positive health consequences of that are unmatched by any other healthcare program out there. No wonder clients worldwide who have experienced the benefits of ABC™ firsthand report relief from symptoms ranging from body pain to improvements in digestion, breathing, mood, sports and arts performance, and more. Read below for more on this.
In the words of the founder of ABC™
ABC™ Introduction by Dr. Jeff Aberle1
Video Source: https://youtu.be/PrnL0Sp99IY
References
1

Video Source: https://youtu.be/PrnL0Sp99IY